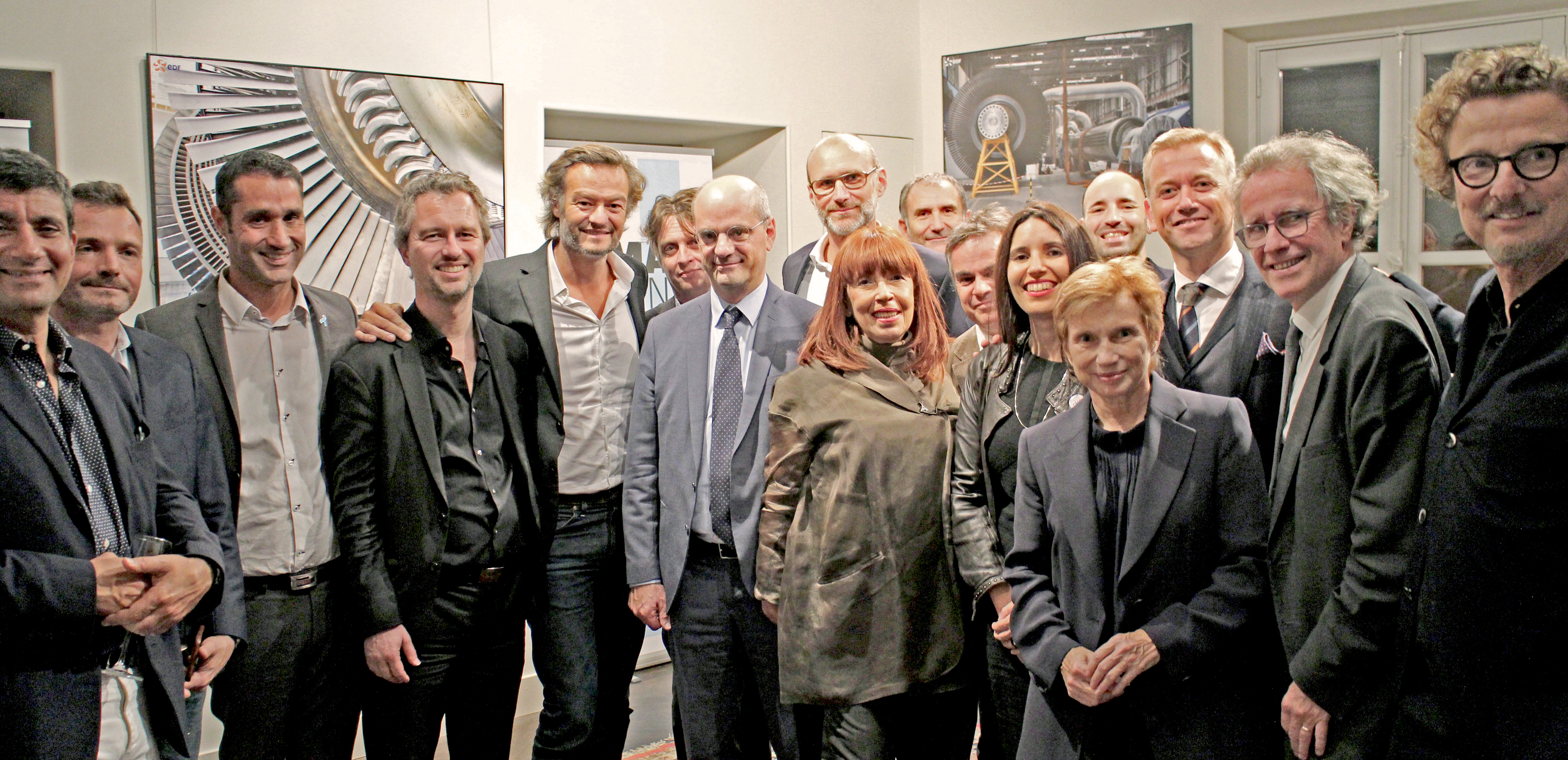 The "Club des gentlemen", presided over by Tatiana F. Salomon and Guy Mamou-Mani, is a group of entrepreneurs and digital personalities, participants in and promoters of public debate, committed to the digital transformation of society, and to the respect of humanist values.
It was the Club des gentlemen that initiated the movement #JamaisSansElles for the promotion of gender diversity.
The story of its genesis is also the illustration of its unique and special ethos.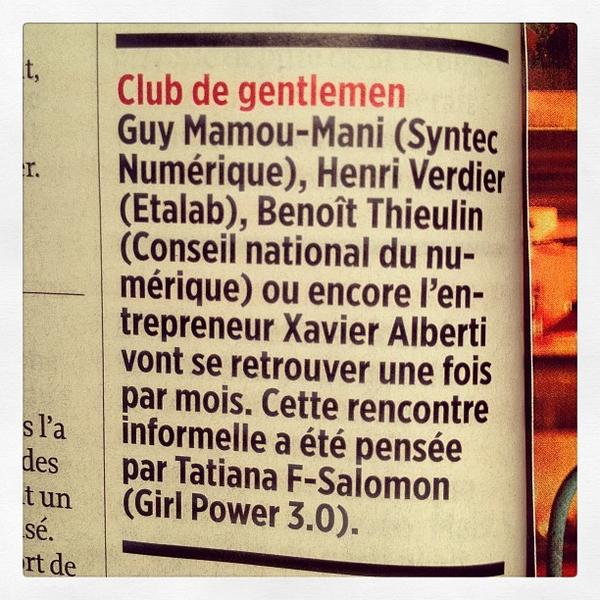 In the beginning there was twitter.
And twitter created #FF (follow friday), a very original tradition whereby every Friday a user recommends to followers to follow other twitter accounts that are likely to interest or enrich them.
And Tatiana F. Salomon (@tfsalomon) saw that it was good. She who loves to celebrate humanity took pains every week to highlight some of the contacts on twitter that distinguished themselves by their particularly open and generous way of sharing and transmitting the best of the web.
Thus, in parallel with her feminine #FF tweets, celebrating exceptional women among whom the members of Girl Power 3.0, which she co-founded in 2006 with Natacha Quester-Séméon, she was keen to celebrate the men friends of women, who have gained notoriety not only for their pertinence in social media, but also because of their natural ability to cooperate with one and all.
Recognizing in these men the humanist legacy of a pre-digital time, she wanted to spotlight them through the #FF, which quickly became famous, identifiable by the distinctive hashtag #Gentlemen.
Then, one of the men, Guy Mamou-Mani, (@guy_mm), was curious to meet the other gentlemen #FF had been associating him with, virtually, every week. Next, he had the brilliant and generous idea to ​​invite them to his home for a memorable encounter (not only because it was the evening when Brazil, Tatiana's native country by the way, scored no less than seven goals in the semi-final of its own World Cup Championship!).
Among the original gentlemen some knew each other. Others did not. But a mixture of curiosity and mutual admiration for each other left them with a desire to renew the experience. Thus was born the Club des Gentlemen! Soon, a friendly and benevolent agreement was reached, similar to the perfect understanding that exists between the two founders and presidents, Tatiana F. Salomon and Guy Mamou-Mani. The respective talents of each participant did the rest …
Page : "The Gentlemen's Club" on Facebook.
THE GENTLEMEN'S CLUB :
Tatiana F-Salomon, strategy consultant, journalist, 3D architect, humanist. Founding President of the humanist association Les Humains Associés established in 1984. Co-founder of Girl Power 3.0, co-president of the Club des gentlemen. She is the Founder and president of the movement #JamaisSansElles. Complete bio.
Guy Mamou Mani, co-chairman of the Open group, former president of Syntec Numérique, ex-vice-president of the National Digital Council (CNNum), co-president of the Club des gentlemen, co-president of #JamaisSansElles.
Jean-Michel Blanquer, Minister of Education.
Benoît Thieulin, director of the Netscouade, ex president of CNNum.
Henri Verdier, Interdepartmental Director of Digital Technology.
Pierre Haski, journalist, co-founder of Rue89, president of Reporters Without Borders.
Henri Gibier, Director of Les Echos (a French daily Financial newspaper), in charge of editorial development projects, editorial director of Les Echos Week-End.
Xavier Alberti, Chairman and CEO at les Collectionneurs, founder of La Transition.
Etienne Parizot, astrophysicist and professor at Paris Diderot University, APC laboratory.
Rubin Sfadj, lawyer.
Sylvain Attal, Deputy Director at France 24 in charge of new media / Chief Digital Content Editor France24.com and Mashable France.
David-Hervé Boutin, entrepreneur, associate audiovisual production group, co-founder #ArtistsALaUne.
Cédric Teissier, founder of Finexkap. Board Member France Fintech. Fintech advisor of World Economic Forum.
François Momboisse, President of Fevad and Ecommerce_EU, founding member of The Transition.
Jean-Paul Lilienfeld, director and screenwriter.
Eric Ingargiola, digital activist.
Claude Posternak, founder of L'Important.
Sacha Quester-Séméon, entrepreneur at youARhere.
Peter Gabor, graphic designer and typographer, teacher and researcher in Graphic Arts Education.
Benoît Raphaël, digital and media innovator, entrepreneur, co-founder of Trendsboard / Flint.
Michel Janneau, Deputy Managing Director of Champagne Louis Roederer, Secretary General of the Louis Roederer Foundation.