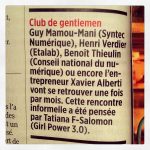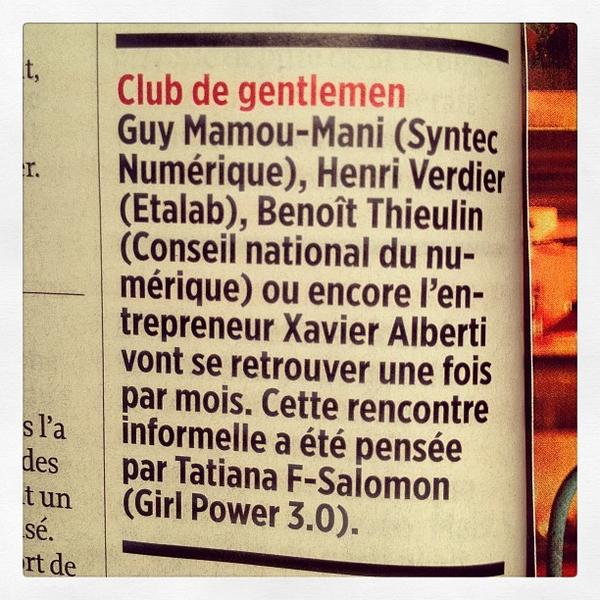 The "Club des gentlemen", founded in 2014, is a group of entrepreneurs and digital personalities, actors and promoters of public debate, committed to the digital transformation of society, in the respect of humanist values.
It is the founding club of our movement with the Girl Power 3.0 women's club. Its members were the first to sign the #JamaisSansElles call for the promotion of gender diversity launched in 2016, which a few months later became the #JamaisSansElles association, founded by women and men.
«Club des Gentlemen» Facebook Page

THE GENTLEMEN'S CLUB (in alphabetical order):
| | |
| --- | --- |
| Xavier Alberti | Chairman and CEO at les Collectionneurs, founder of La Transition |
| Sylvain Attal | Deputy Director at France 24 in charge of new media / Chief Digital Content Editor France24.com and Mashable France |
| Jean-Michel Blanquer | Minister of Education |
| David-Hervé Boutin | Entrepreneur, associate audiovisual production group, co-founder #ArtistsALaUne |
| Philippe Charlier | Vice president of #JamaisSansElles, Doctor, anthropologist, archaeologist - Director of the Research and Education Department at the Quai Branly Museum |
| Etienne Gernelle | General manager of Le Point magazine. |
| Henri Gibier | Director of Les Echos (a French daily Financial newspaper), in charge of editorial development projects, editorial director of Les Echos Week-End. |
| Laurent Guez | Editorial Director Food at Groupe Les Echos-Le Parisien |
| Pierre Haski | Journalist, co-founder of Rue89, president of Reporters Without Borders |
| Thierry Jadot | Secretary General of #JamaisSansElles, entrepreneur, Board member of the International Advertising Association – France, Lecturer @sciencespo Paris, Author: #LétéNumérique, photographer |
| Alexandre Jardin | Writer, co-founder of "Lire et faire lire" and "Bleu, blanc, zèbre" |
| Paolo Levi | Journalist, Italian agency ANSA |
| Jean-Paul Lilienfeld | Director and screenwriter |
| Guy Mamou-Mani | Co-chairman of the Open group, former president of Syntec Numérique, ex-vice-president of the National Digital Council (CNNum) |
| François Momboisse | President of Fevad and Ecommerce_EU, founding member of The Transition |
| Olivier Mousson | President of the National Industry Encouragement Society |
| Laurence Parisot | President of Citigroup in France. Founding member of #JamaisSansElles, she chairs its women's council |
| Etienne Parizot | Vice president of #Jamaissanselles, Astrophysicist and professor at Paris Diderot University, APC laboratory |
| Claude Posternak | Founder of L'Important |
| Carlo Purassanta | Investor, Former CEO of Microsoft France and Microsoft Italia |
| Natacha Quester-Séméon | Digital strategist, photographer, co-founder of the Girl Power 3.0 club, Executive Director and spokesperson for #JamaisSansElles |
| Sacha Quester-Séméon | Entrepreneur youARhere |
| Benoît Raphaël | Media strategist, founder of FlintMedia |
| Tatiana F-Salomon | President of #Jamaissanselles, President of Les Humains Associés, Co-founder of Girl Power 3.0, and founder of the Club des Gentlemen |
| Thierry Taboy | Head of Society Issues in the Corporate Social Responsibility division at Orange Group |
| Benoît Thieulin | Director of the Netscouade, member of CESE (The Economic, Social and Environmental Council), former president of CNNum |
| Nawfal Trabelsi | CEO McDonalds France |
| Henri Verdier | Ambassador for digital business for France |
Photo by Thierry Jadot, Maison Dentsu, march 2020.