For #JamaisSansElles: feminism is humanism! 
#JamaisSansElles is a feminist and humanist movement that promotes equality and gender diversity. It was founded by women and men; entrepreneurs and key figures from the digital sector (three women and twenty men initially). #JamaisSansElles works to support shared governance and gender diversity in all areas of society. The presidency is shared by women and men. 
The #JamaisSansElles appeal gave birth to the eponymous association, which was founded in 2016.
Through their commitment to #JamaisSansElles, men, who are mindful of balance and representivity, promise to participate no longer in events, debates, expert panels or round table discussions without women. The movement was created by the Gentlemen's Club,  a group of humanist entrepreneurs joined by a large number of signatories from civil society and the media, academics, politicians, etc. It has a Women's Council and is supported by Club GirlPower 3.0.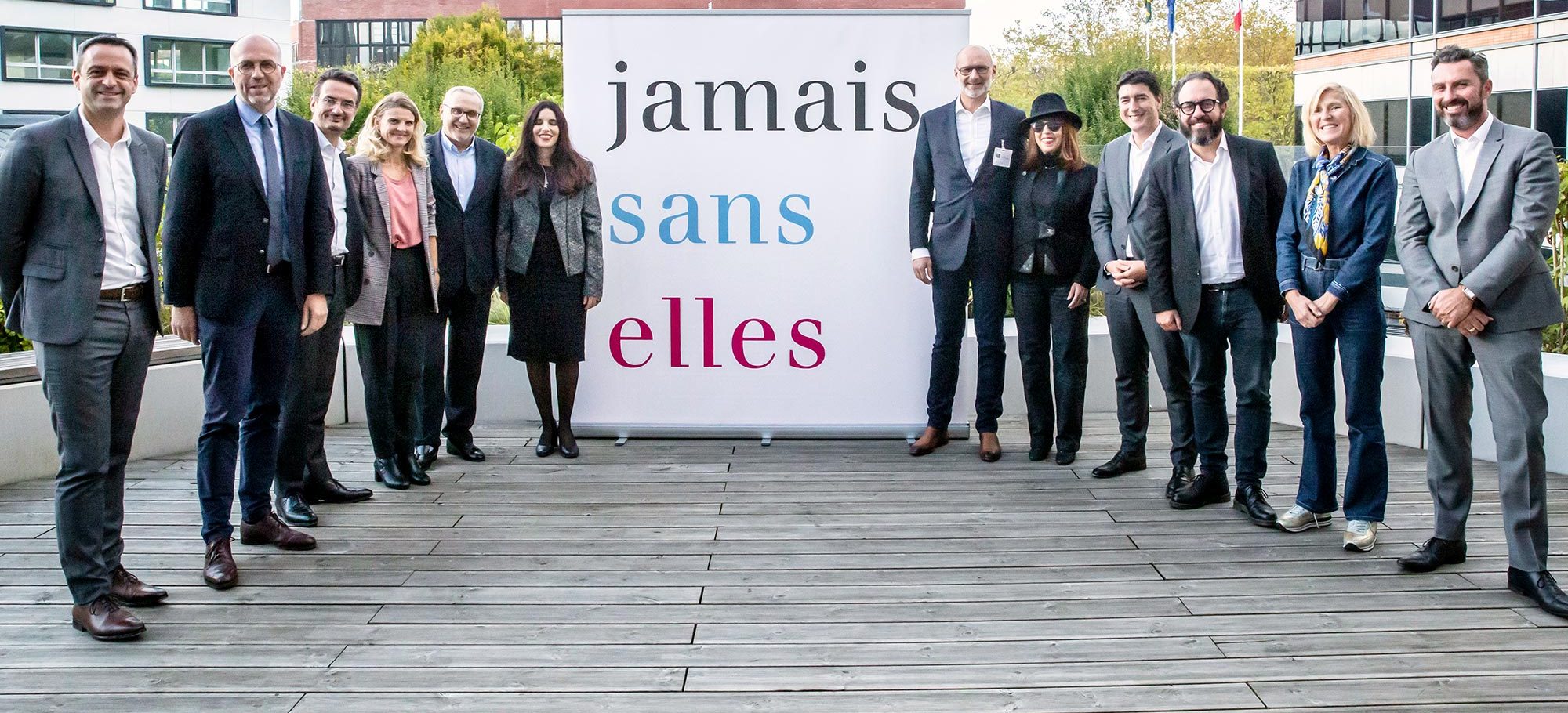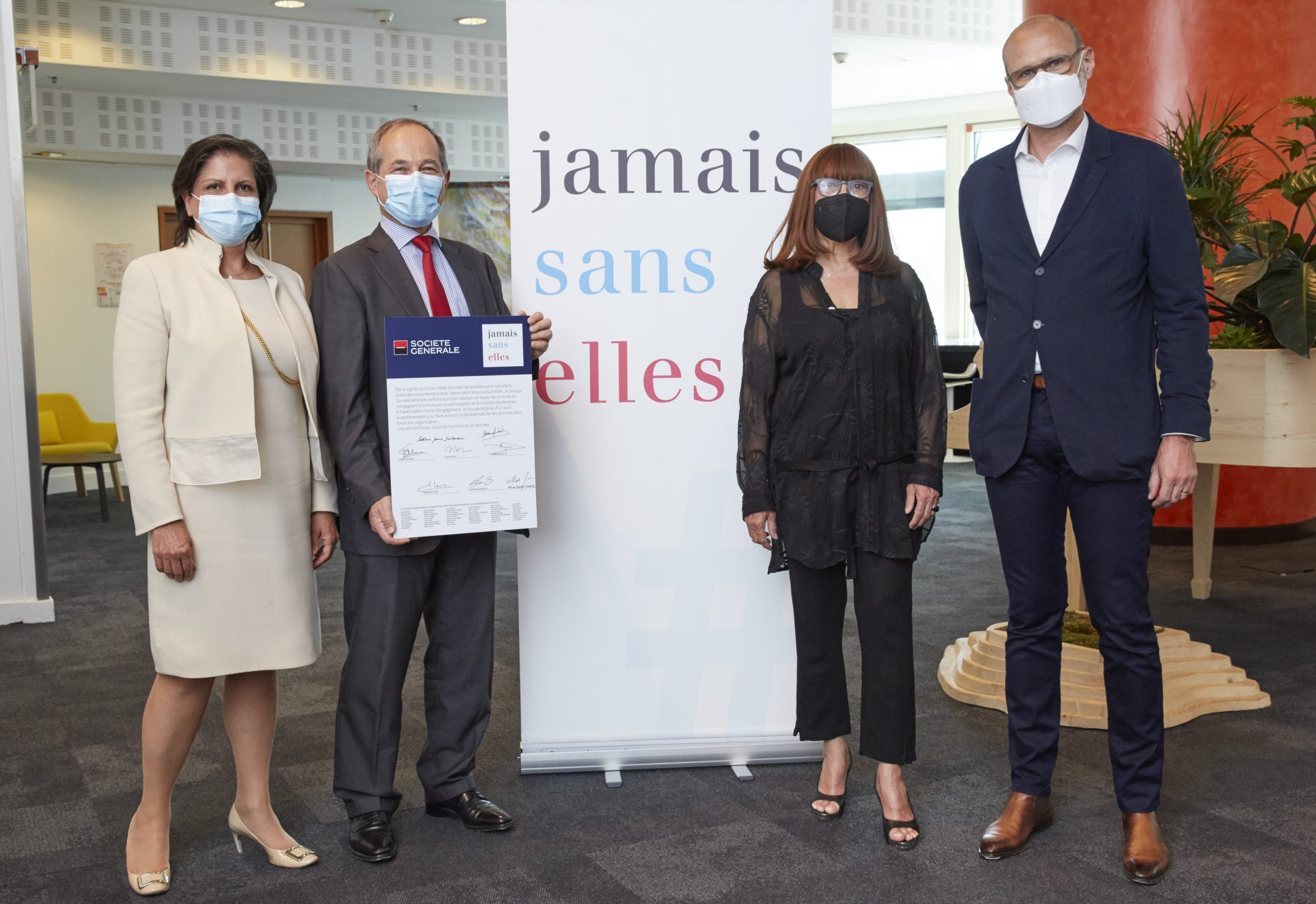 Today, in order to break through the glass ceiling #JamaisSansElles proposes concrete actions to promote the equal participation and visibility of women in decision-making bodies and positions of responsibility and representation. The association promotes shared governance.
The association develops charters in partnership with firms and governance actors and devotes time and effort in the battle against gender stereotypes in the field of education.
1000 male and female leaders have commited themselves individually to #JamaisSansElles: politicians, MPs, senators, male and female French ambassadors worldwide, NGOs and big firms ( Microsoft France, SAP France, BNP-Paribas, Société Générale, EDF, Sanofi, McDonald's France, FDJ and Les Collectionneurs). In Europe and elsewhere in the world: German ministers, Danish MPs and subsidiaries of major French corporations. The signatories are present in approximately 50 countries.
Three French ministries and their administrations have committed themselves with an ambitious #JamaisSansElles charter: Ministry of National Education, Ministry of the Economy and Finance, Ministry of the Interior.
The commitments made by the signatories and partners of the association have changed the daily lives of thousands of women and men. The #JamaisSansElles firms represent already more than 600 000 collaborators worldwide, a number which continues to grow.
#JamaisSansElles, a popular hashtag
The association was founded as a result of the simultaneous success of the first appeal, launched in 2016, and of the eponymous hashtag that became very popular on Twitter within a matter of days. It is shared widely on social media (620 000 engagements of which more than 300 000 mentions since 2016 according to Talkwalker). Since 2015 #JamaisSansElles has been the 4th most prominent hashtag of a collective movement on Twitter in France (source – Ifop Opinion/FlashTweet).
The presidency is shared: Tatiana F. Salomon, President; Étienne Parizot, Vice President; Philippe Charlier, Vice President; Natacha Quester-Séméon, Executive Director and Spokesperson; Thierry Jadot, Secretary General; Hugo Jardin, Youth Spokesperson.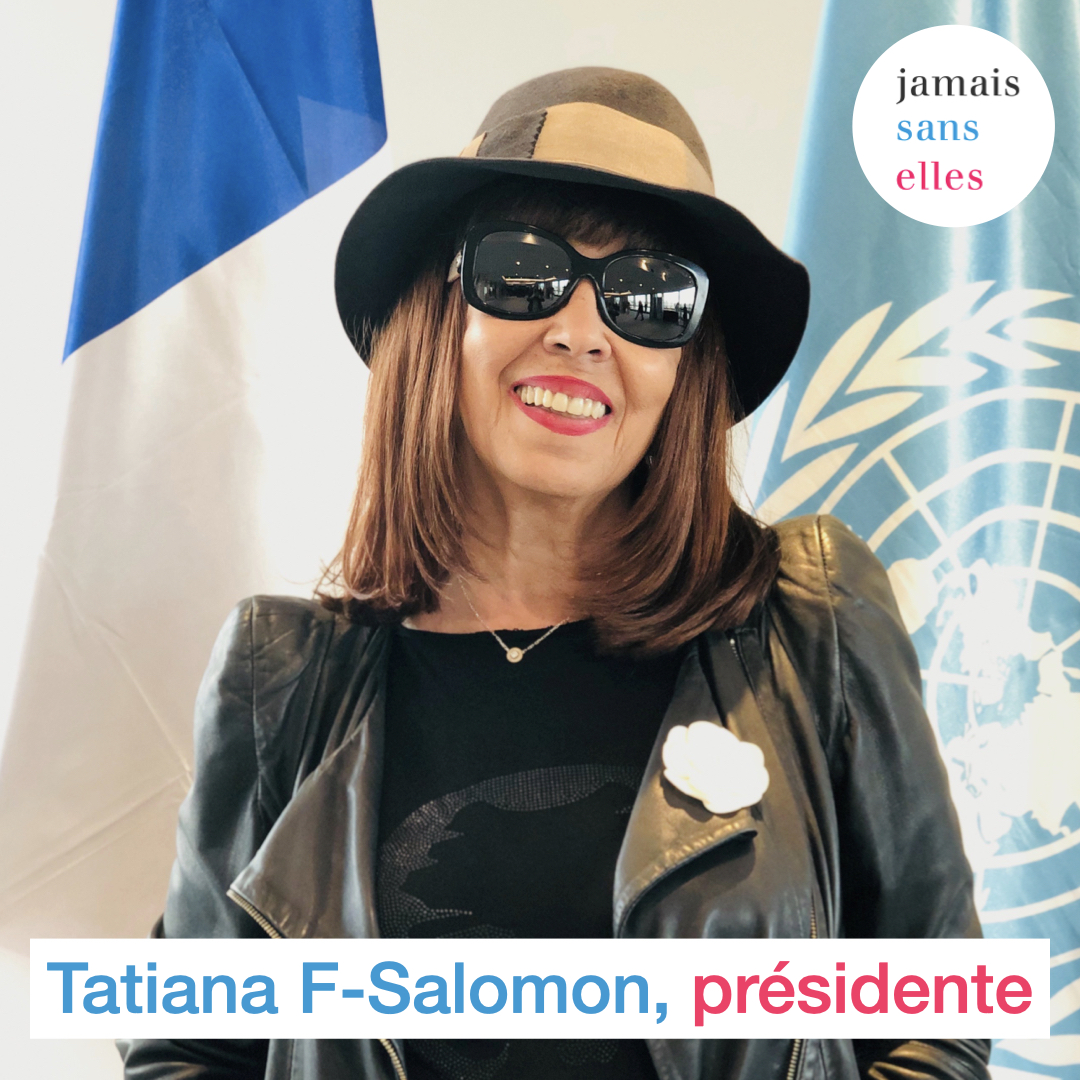 Founder of the movement and President of #JamaisSansElles. Strategic consultant, producer, 3D architect and author, president of the association Les Humains Associés, web pioneer since 1994, co-founder of Girl Power 3.0 founded in 2006.
Twitter : @tfsalomon.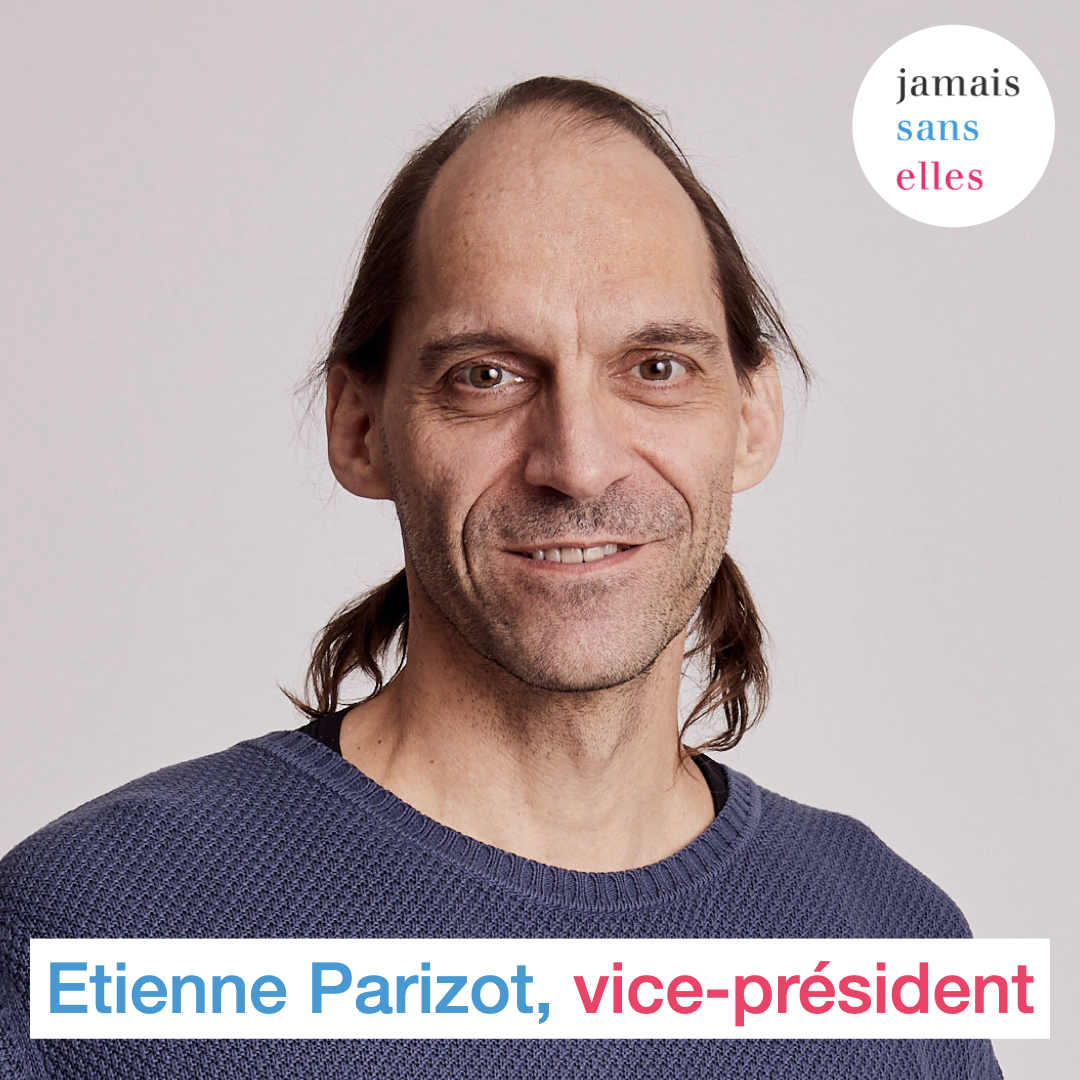 Vice-president of #JamaisSansElles and founding member of the movement, astrophysicist and professor at the Université de Paris, co-head of the French delegation of #Women20, a G20 engagement group, of which he is the only male delegate. He has more than 1.2M views on YouTube. 
Twitter: @parizot


Vice-president of #JamaisSansElles, medical examiner, anthropologist, archaeologist, author, lecturer at the University of Versailles Saint-Quentin-en-Yvelines, director of the Research and Education department at the Quai Branly museum – Jacques Chirac.
Twitter:
@doctroptard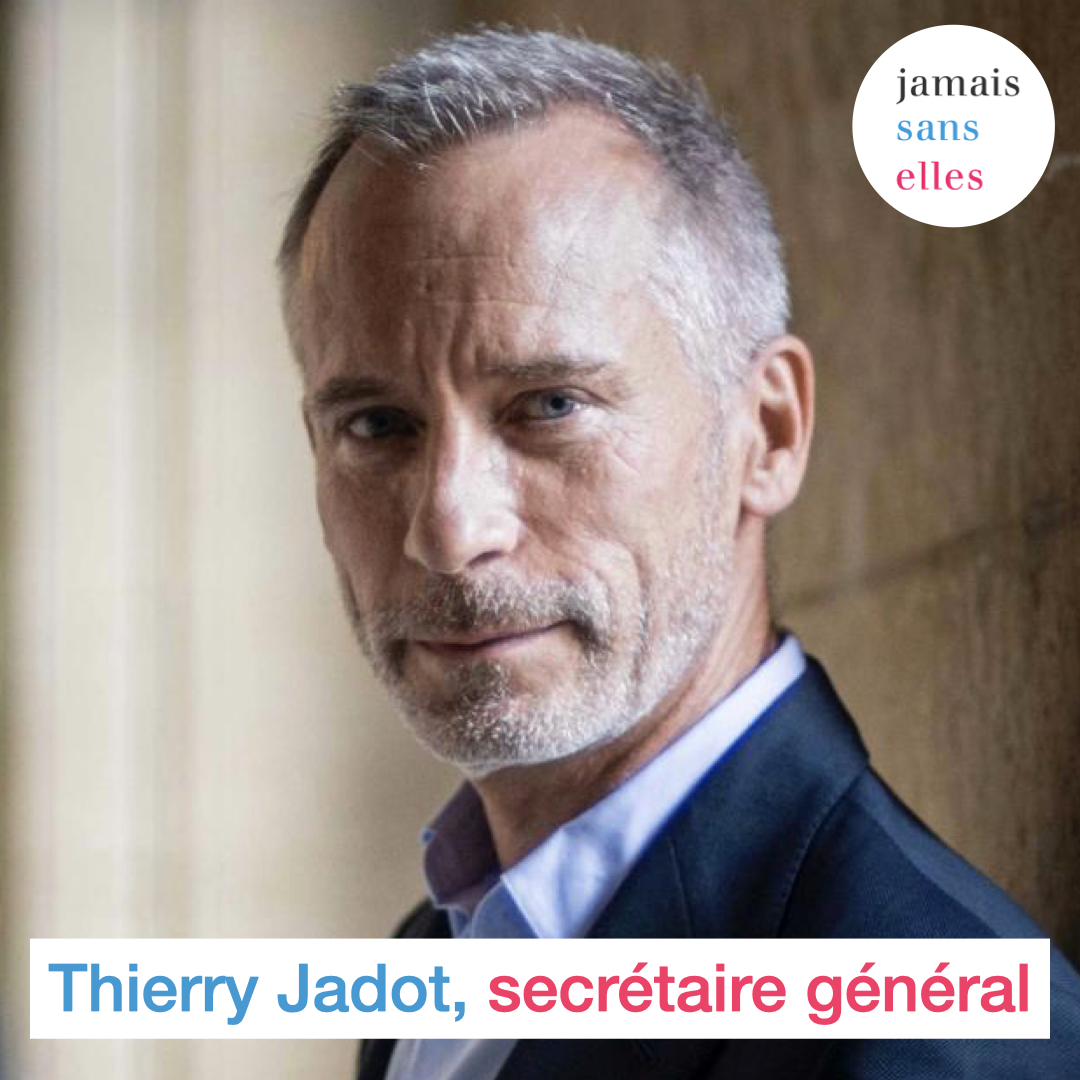 Secretary General of #JamaisSansElles, entrepreneur, member of the board of the International Advertising Association – France, lecturer at Sciences Po Paris, author, photographer.
Twitter: @thierryjadot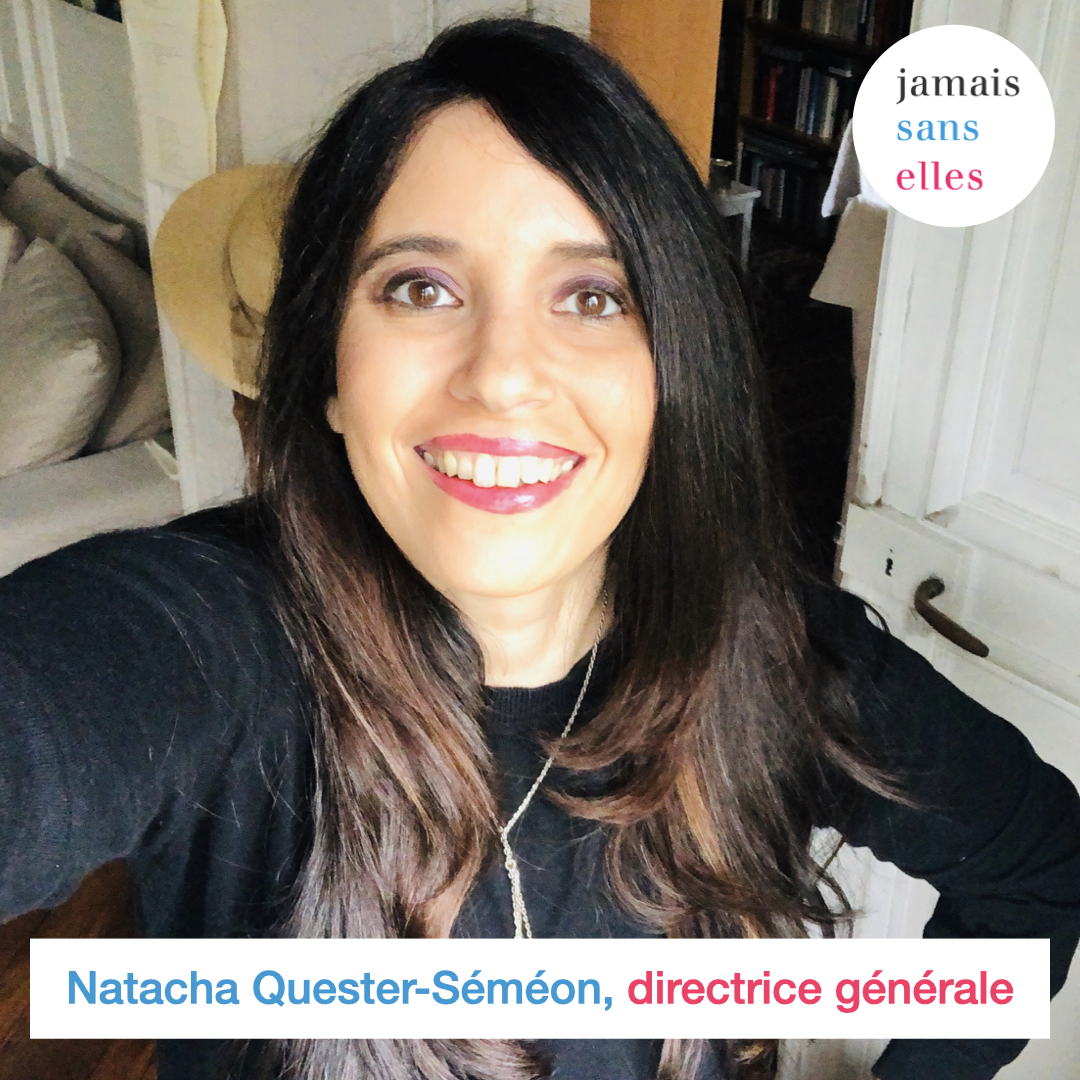 Executive Director and spokesperson of #JamaisSansElles, co-founder of the influencer group
Girl Power 3.0
, digital strategist, Web pioneer and journalist, ex-VP of the association Bleu, blanc, zèbre, co-head of the French delegation of Women 20, a G20 engagement group.
Twitter :
@NatachaQS
Team: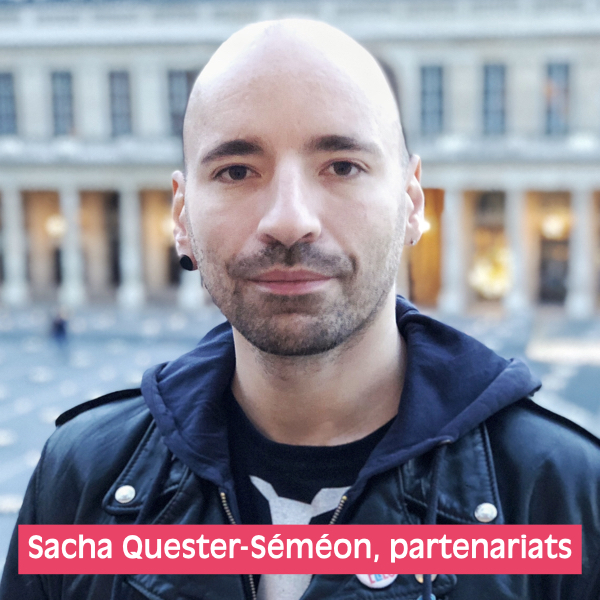 In charge of #JamaisSansElles partnerships, founding member of the movement, technical director of the digital innovation agency youARhere, technology, media, mobile video and social media specialist, designer, coder, consultant, trainer, expert member at Journalist Trust Initiative of Reporters Without Borders.
Twitter : @SachaQS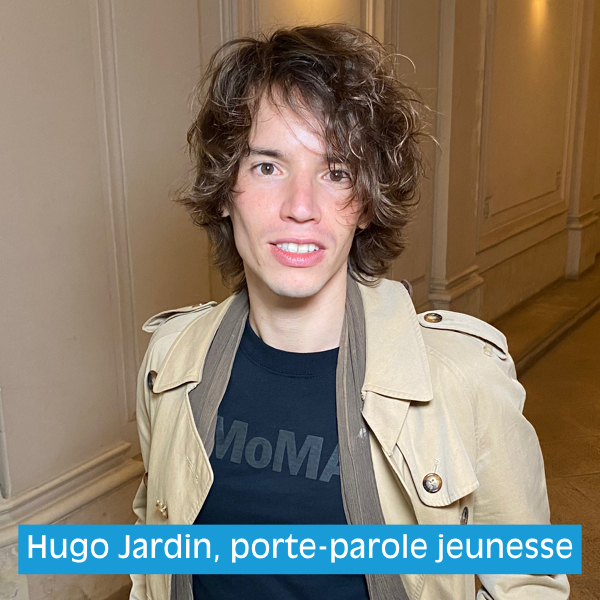 Youth spokesperson of #JamaisSansElles, singer-songwriter.
Twitter : @jardinhugo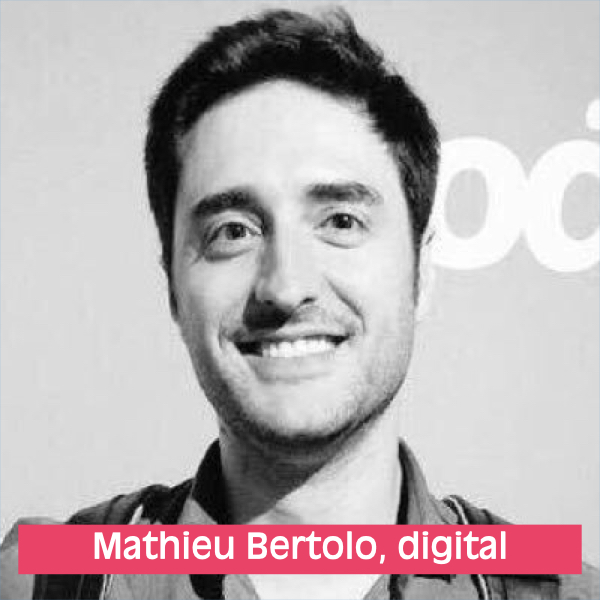 Digital team of #JamaisSansElles, entrepreneur, co-founder of briefstory.io.
Twitter : @MathieuBertolo
Active Members: 
Laurence Parisot (chairperson of Women's Council), Carlo Purassanta, Muriel Domenach, Thierry Jadot, Olivier Mousson, Sophie Viger, Benoît Raphaël, Sacha Quester-Séméon.
Catherine Barba, Nathalie Kosciusko-Morizet, Rachel Khan, Bouchera Azzouz, Michèle Fitoussi, Irène Tolleret, Muriel Jasor, Julia Minkowski… See complete list here.