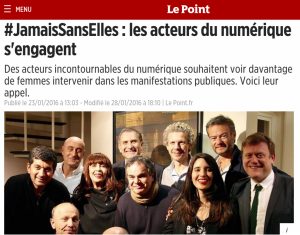 Key players in the digital world would like to see more women taking part in public events. They signed the pledge launched in the January 2016 issue of Le Point magazine.
Since the appeal to have the French diplomatic corps join forces with #JamaisSansElles was launched in March 2018, by the Ministry of Europe and Foreign Affairs, several ambassadors and consuls have made personal commitments, as well as on behalf of their respective embassies.
Today, nearly 1000 humanist entrepreneurs, players from high tech, the media and politics – including CEOs and members of five corporate executive committees, several ambassadors and MPs – have made the commitment.
The #JamaisSansElles hashtag has generated 630 000 tweets and has reached possibly more than 23 million people on Twitter.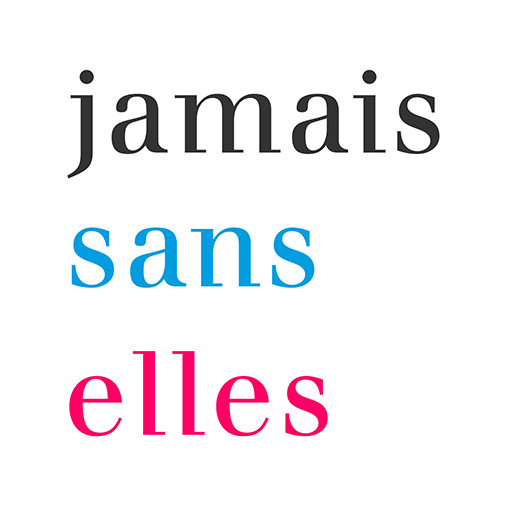 The pledge, 20 January 2016
Updated 25 May 2020
There are too many panels, panel discussions, round tables, expert committees, and too many councils, meetings, and debating societies… without women! From now on, we will no longer participate in any public, or media events, face to face or remotely, at which topics relating to issues of common interest, society, politics, economics, science, and strategic matters, are debated, commented on, or assessed, and where there are no women present among the many participants.
We are not asking for quotas, written rules or laws. We are asking for a simple personal commitment faced with a foregone conclusion: A panel without a single woman on it is unequivocally and blatantly absurd.
This is the commitment that was made, and the pledge that was extended, with conviction, on January 20, 2016 by the Club des gentlemen; a group composed of entrepreneurs and leading figures from the tech industry, committed to public debate and the humanistic transformation of society, presided over by Tatiana F. Salomon with Etienne Parizot and Philippe Charlier.
This permanent commitment, will be supported by public statements, whenever necessary, and accompanied by the hashtag #JamaisSansElles on social medias.
Share!
The signatories of #JamaisSansElles are present in 30 countries worldwide.