An exceptional round table at the Quai d'Orsay devoted to gender diversity and an extension of the strategic partnership with the Ministry for Foreign Affairs
On the occasion of International Women's Day, 8 March 2018, the Ministry for Foreign Affairs staged a special day dedicated to women's rights around the world, an event that brought together different personalities. The ministry invited #JamaisSansElles for a round table devoted to action in favour of gender diversity.
Jean-Yves Le Drian, Minister for Europe and Foreign Affairs, joined forces with #JamaisSansElles during the presentation of France's International Digital Strategy at "The Camp" on 15 December 2017.
Other announcements were made during the event, which will solidify the partnership between the French diplomatic corps and #JamaisSansElles.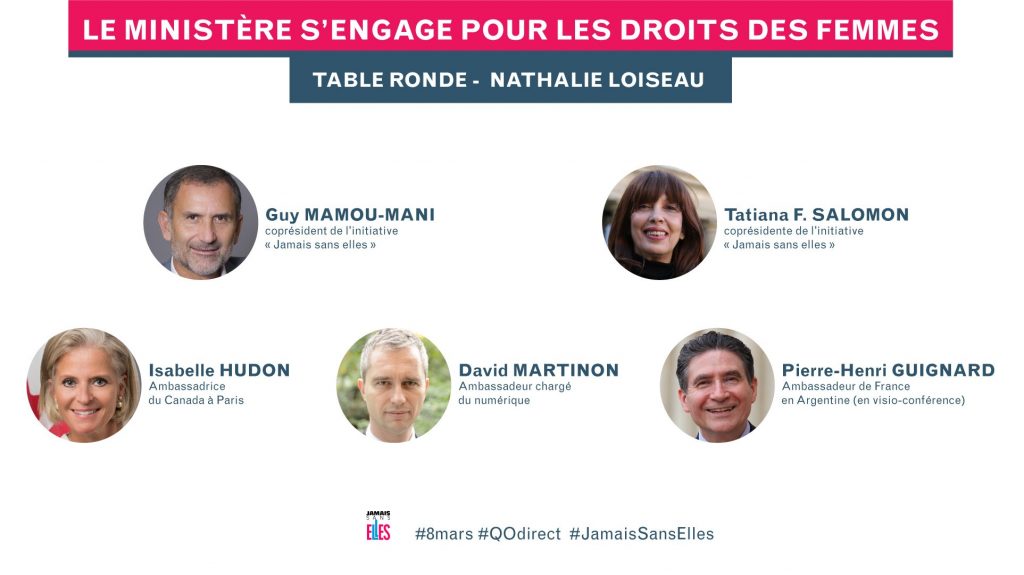 OBJECTIVE GENDER DIVERSITY : THE FRENCH DIPLOMATIC CORPS JOINS FORCES WITH #JAMAISSANSELLES
With Nathalie LOISEAU, Minister for European Affairs
Tatiana F. SALOMON, co-president of #JamaisSansElles
Guy MAMOU-MANI, co-president of #JamaisSansElles
Natacha QUESTER-SÉMÉON, spokesperson for #JamaisSansElles
David MARTINON, France's Ambassador for Cyber Diplomacy and the Digital Economy, first ambassador signatory of #JamaisSansElles
Isabelle HUDON, Canadian Ambassador to France, co-chairperson of The Gender Equality Advisory Council for Canada's G7 Presidency
Pierre-Henri GUIGNARD, French Ambassador to Argentina.
Charlotte MONTEL, vice-president of the association Femmes et Diplomatie (Women and Diplomacy), at the Ministry, for Europe and Foreign Affairs
Chairperson : Sylvain ATTAL, journalist, founding member of #JamaisSansElles.
See the programme at diplomatie.gouv.fr