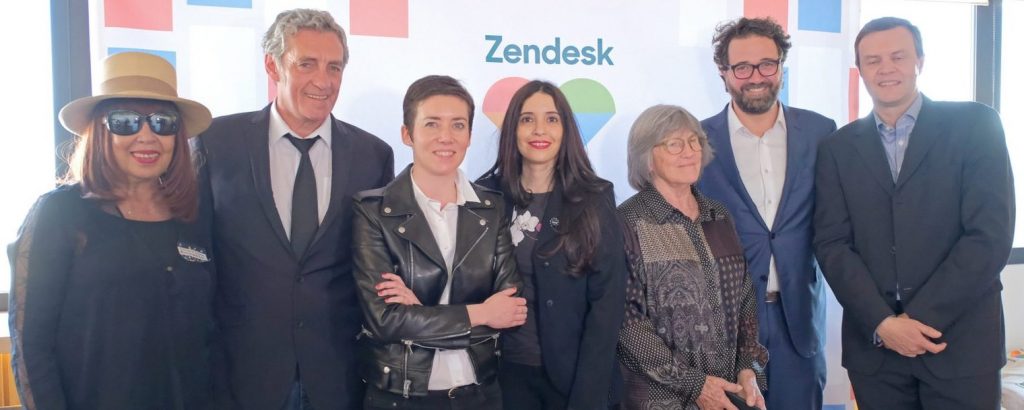 In only a few weeks #JamaisSansElles has grown in the south of France. On 20 March 2017 Co-President Tatiana F. Salomon was with Montpellier Mayor Philippe Saurel and Chantal Marion, the Vice-President of Metropolitan Montpellier Méditerranée. Together with them were Stephane Reboud from Dell-EMC (Occitania JSE delegate) and Natacha Quester Semeon, JSE spokesperson.
They all came together at Zendensk France, headed by Rachel Delacour, with Mikkel Svane, Zendensk CEO, who came especially from San Francisco to open the new office of their French subsidiary.
Tatiana F. Salomon and Natacha Quester-Semeon set forth the aims of the association before announcing their partnership with Zendesk. As the CEO of Zendesk, Mikkel Svane signed the appeal on behalf of the company officers. He is the first Silicon Valley boss to stand shoulder to shoulder with us.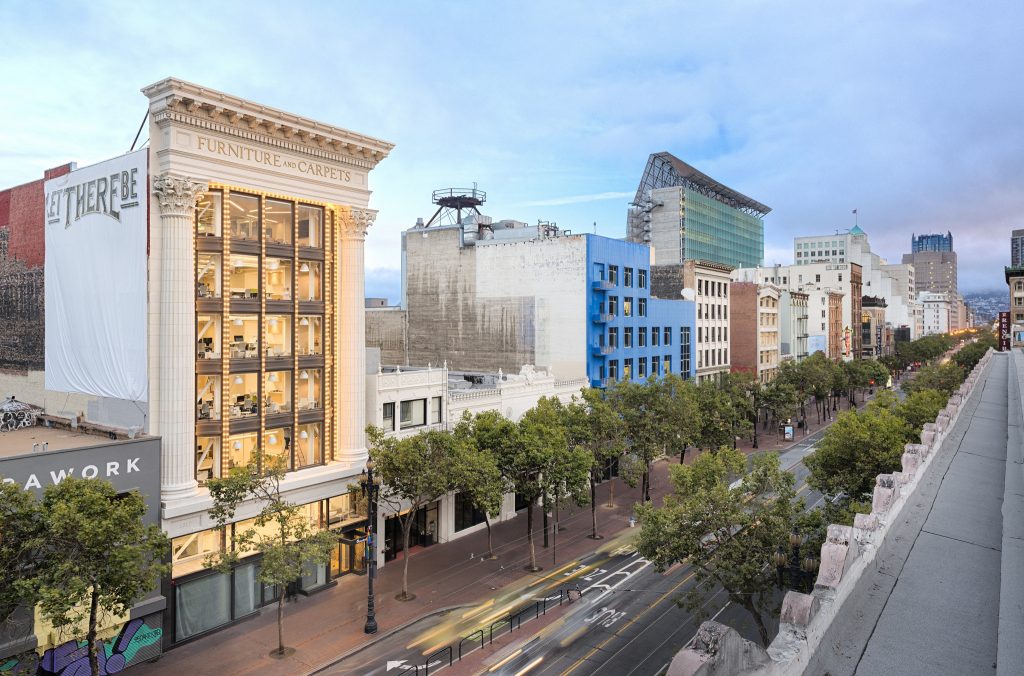 #JamaisSansElles has arrived in Silicon Valley!
The Californian unicorn goes further: a #JamaisSansElles charter will be adapted for the firm and Mikkel Svane and his team will be launching a #JamaisSansElles hub in San Francisco in the near future.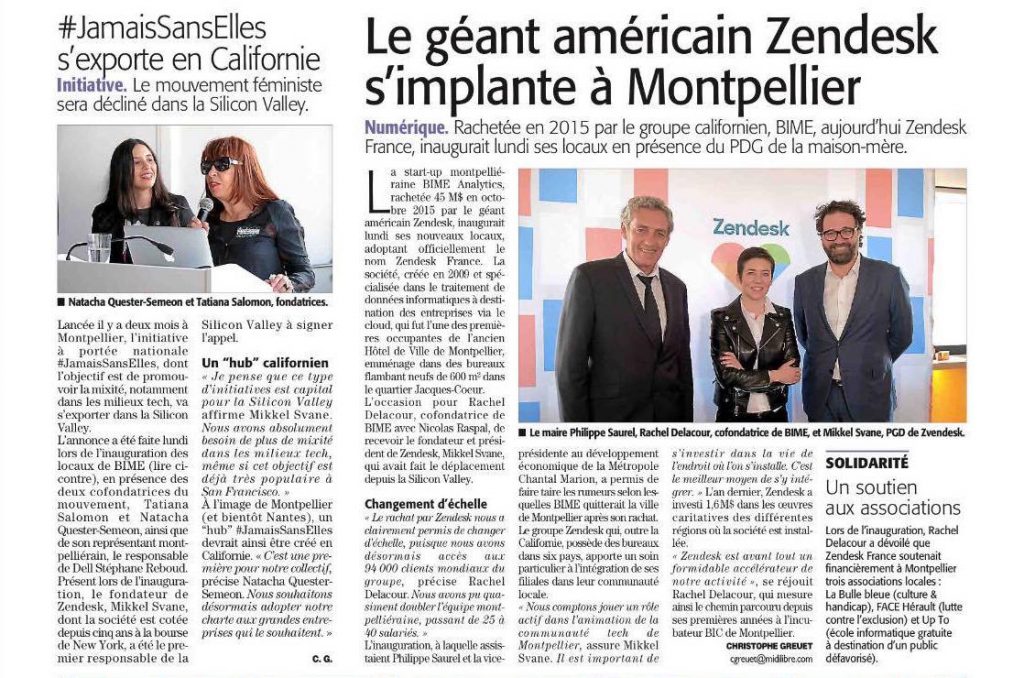 Article dans le Midi Libre
What is a #JamaisSansElles hub?
A hub (or connector) is a satellite coordinated by two representatives of #JamaisSansElles . This two-person team is composed of two corporate executives.
Each #JamaisSansElles hub collaborates with local players and networks, as well as with associations on the ground committed to taking action to ensure diversity.

The 1st hub in Montpellier

The 1st #JamaisSansElles hub was launched officially in Montpellier for Occitania 19 January 2017 at the instigation of Stephane Reboud during the Dell Women's Entrepreneur Network Forum (Dwen). See the post her under the heading Montpellier.
Two weeks later #JamaisSansElles was presented during Lab Objectif 2017 organized by Objectif LR. La Tribune Vice-President Jean-Claude Gallo committed then to collaborating with JSE.
In Techcrunch.
Dans @techcrunch : Le CEO de @Zendesk s'engage avec #JamaisSansElles https://t.co/Kr10uBPm0A cc @mikkelsvane @romaindillet @joinstationf pic.twitter.com/soJ7ZCnfkj

— JamaisSansElles (@JamaisSansElles) March 23, 2017
Today I take the #jamaissanselles pledge, promoting gender equality in tech. Let's end the tech conference sausage party. Jamaissanselles.fr pic.twitter.com/UEiabNmgpk

— Mikkel Svane (@mikkelsvane) March 20, 2017
#JamaisSansElles #Montpellier @tfsalomon @mikkelsvane (1er CEO signataire #SiliconValley) @BIME_Rachel @StephaneReboud @NatachaQS @zendesk pic.twitter.com/NVHqMBTRBF

— JamaisSansElles (@JamaisSansElles) March 20, 2017
Bienvenue à Jean-Claude Gallo (@jcgalloobjectif), directeur d'@ObjectifLR et VP de @LaTribune, signataire de #JamaisSansElles #Montpellier pic.twitter.com/Y5ClyXECSh

— JamaisSansElles (@JamaisSansElles) March 4, 2017