Tatiana F-Salomon, co-president of #JamaisSansElles ["Never without her"], was in Germany on September 4th at the invitation of Michael Roth, German Minister of State for European Affairs, who made a commitment to #JamaisSansElles several months ago. He welcomed Tatiana to Berlin as guest of honor of the 2018 EuropeFest at Villa Borsig, the guesthouse of the Ministry of Foreign Affairs. Here is the text of Tatiana F-Salomon's speech.
"Better to light a candle than to curse the darkness"
Lao Tzu
To paraphrase Marguerite Yourcenar, I would say that my first homeland were the books of German poets and philosophers. As far as I can remember, Rilke's poems, Kant's philosophy, Nietzsche's Zarathustra, Hölderlin, and German transcendental idealism in general, have always been my essential food, my homeland, and remain so today. I wanted to say this first, because my gratitude to them is immense.
For our movement, #JamaisSansElles ["Never without her"], feminism is not about combating men, in the name of the fight against patriarchal oppression, and even much less so about claiming female leadership. Before being male or female, we are human beings who are free and equal in dignity and rights.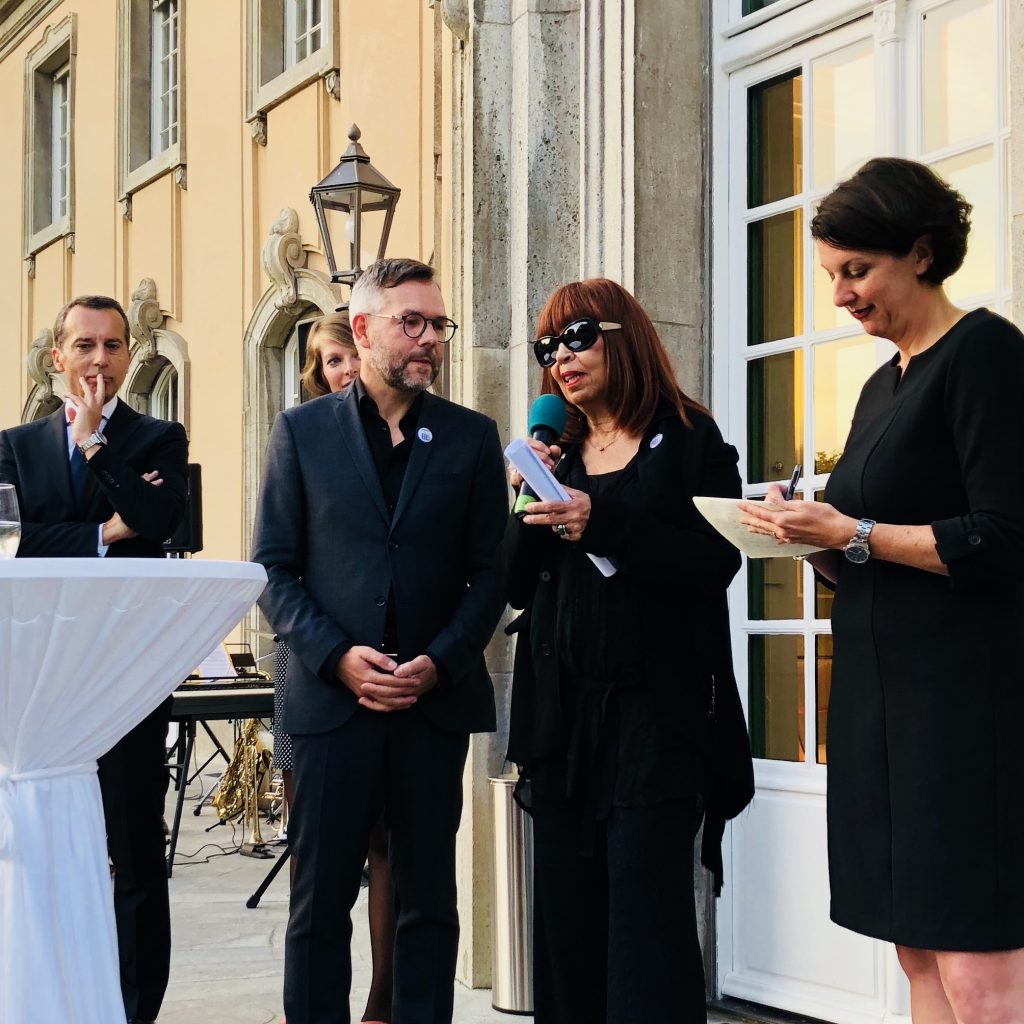 #JamaisSansElles' aim is not to obtain concessions in a power game, nor to establish a balance of power. We ask neither for grace or favor, but for the mere recognition of full legitimacy.
Though we do aspire to bring down the glass ceiling, it is not so women can take the place of men. But, rather, so that it will seem perfectly natural to one and all, in the name of fairness and the most basic human principles, that women and men must take their place, side by side, in all areas of society, and participate jointly in the management of human affairs.
That is why we say that feminism is humanism! We are proud to proclaim, clearly and unequivocally, our humanist heritage; which affirms the right of all persons to be considered as individuals and held accountable for their actions alone, and not according to birth, gender or community of origin.
#JamaisSansElles is not appealing for gender solidarity, but for universal, inclusive solidarity. Not for a settling of accounts between "women" who are victims and "men" who are predatory, but for a reconciliation of all in the name of their common humanity. For fair, dignified and respectful sharing.
If #JamaisSansElles distinguishes itself from other feminist movements, it is perhaps due to the direct involvement of men. It is not about women fighting for women.
It is very likely that the movement's success owes much to the symbolic clout of the many men who have joined it since its inception. But it is never their importance "as men" that manifests itself therein: The #JamaisSansElles dynamic is made up of the citizens who now refuse to endorse what has become unbearable to them, namely, all-male panels. And, they insist on saying how absurd it is for them to participate in public events on societal and human issues that involve only men.
But of course the success of the #JamaisSansElles appeal is not due only to the influence of the men who bear it with sincerity. That would be absurd. A great many female personalities promote it vigorously, notably in the movement's Women's Council, chaired by Laurence Parisot – personalities who may not have fully embraced other approaches to the problem that may tend to focus more on the harm done to women than on the simple and individual actions that can help change the situation. Not against men, but with them on our side. What we are proud of is helping to change the situation, not in confrontation with men. But with their help.
As long as equal opportunities and respect for all are perceived as a common interest, they can also become a common objective. And when a common objective is pursued by a sufficient number of sincere and willing citizens, how can it not find the path of its realization?
As it happens, our path started in the digital world, with a club of influential women in the field, "Girl Power 3.0", which I co-founded with Natacha Quester-Séméon in 2006. Then with a "Gentlemen's club" I co-founded in 2015 with Guy Mamou-Mani and Xavier Alberti, which brought together various personalities from the digital world. It was within this club that the idea of #JamaisSansElles was born, which led to an appeal launched on January 20, 2016, by virtue of which the signatories undertook to refuse any participation in single-sex events.
This slideshow requires JavaScript.
The appeal had a strong impact, which owes a lot to the power of social media, such as Twitter. But although the success first came as a surprise to us, with hindsight it is undoubtedly due to the fact that #JamaisSansElles approaches the issue of women's place in society in a rather original way; with a particular, perhaps new, mode of engagement; which is both easy to access and demanding: since it does not depend on a law, but simply on the commitment of each individual, and on the respecting of that commitment.
And if it appears to be effective, as perhaps our presence here testifies, it is because the men who have answered the call are truly sincere – something I have never personally doubted.
That is why we are delighted with the personal commitment of Minister Michael Roth, whom I thank very warmly for his invitation and welcome. However, I thank him even more so perhaps for having perceived the spirit of #JamaisSansElles, which most probably reflects his own. And which can be summed up in one word: Humanism!
As soon as the French presidential campaign got underway, a Governance Charter, proposed by #JamaisSansElles, was signed by several candidates, including Emmanuel Macron. But this is a new international phase that is emerging here in Europe. After the commitment of French diplomacy, through the words and actions of Ministers Jean-Yves Le Drian and Nathalie Loiseau, which led to the commitment of many French ambassadors and consuls around the world (including Anne-Marie Descôtes, French ambassadress here in Berlin), and which was made concrete once again just last week on the occasion of Ambassadors… and Ambassadresses' Conference (!) (with the support also of the "Women and Diplomacy" Association), we are happy and proud — myself, my co-president Guy Mamou-Mani and all of the Gentlemen's Club, who launched the movement — of the response our movement has received, thanks to you, dear Michael, in Germany, the best partner I could ever personally have dreamed of.
Thank you once again for your commitment and your beautiful humanity,
Vielen Dank!
This slideshow requires JavaScript.