Updated version, 6 March 2019 
With its disruptive concept and unique approach, the movement #JamaisSansElles for the promotion of gender equality is now unavoidable. Indeed, in a very short time the hashtag that symbolizes it has become the most shared on Twitter in its category. Here's a look at some of the figures and highlights in its development.
Data is monitored with our partner Talkwalker, the reference tool for monitoring and measuring social networks*.
#JamaisSansElles on average per month:
5,475 mentions – nearly 10 000 engagements
Here are the peaks from January 2016 to March 2019 (in descending order of the number of tweets and retweets):
1️⃣ #JamaisSansElles Governance Chart06er, 2017 Presidential Elections
5,200 tweets et retweets
Reach: 21 million
9,200 engagements
3,330 unique twitter authors
#JamaisSansElles proposed a Charter to the candidates on March 8, 2017 (International Women's Day), so they would commit to defend and promote gender equality at all levels of the public sphere. Two candidates signed it: Emmanuel Macron and Benoît Hamon.
(Period analyzed: week of March 7 to 14, 2017)
1er signataire de la Charte #JamaisSansElles. Plus qu'une démarche féministe, cet engagement est nécessaire pour transformer notre société. https://t.co/5xU8tTowuy

— Emmanuel Macron (@EmmanuelMacron) March 7, 2017
2️⃣ Launch of the AI Bot ELLA and event at the Quai d'Orsay
5,000 tweets et retweets
Reach: 34.4 million
10,230 engagements
2,415 unique twitter authors
The week of March 8, 2018 #JamaisSansElles hosted an event, its second soiree with the launch of ELLA, the AI bot, and partnered for the special day of March 8 at the Quai d'Orsay with Minister Nathalie Loiseau.
(Period analyzed: March 5 to 11, 2018)
Le ministre de l'Éducation @jmblanquer est le parrain d'Ella. Le défi est de s'assurer que le monde de l'informatique fasse une grande place à l'humain! #JamaisSansElles cc @tfsalomon @NatachaQS @girlpower3 pic.twitter.com/yyBHtxfNB3

— Jean-Yves Zoyo (@JYZoyo) March 5, 2018
DIRECT : Le ministère s'engage pour les droits des femmes.
Avec @NathalieLoiseau, @JamaisSansElles @david_martinon @GuignardPH https://t.co/PIu1qUOCBF

— France Diplomatie?? (@francediplo) March 8, 2018
3️⃣ First soiree of the movement in 2016
4,000 tweets et retweets
Reach: 13 million
5,200 engagements
1,600 unique twitter authors
During the course of the first soiree of the association in 2016, the hashtag #JamaisSansElles went into Trending Topics on Twitter.
(Period analyzed: from December 8 to 16, 2016)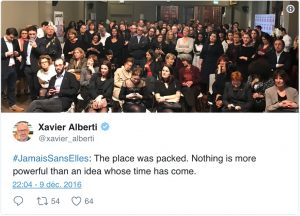 4️⃣ Elected officials commit themselves alongside #JamaisSansElles 
2,670 tweets et retweets
Reach: 14.7 million
6,640 engagements
1,254 unique twitter authors
In one week, 50 elected officials committed themselves alongside #JamaisSansElles (deputies, senators and 1 MEP) to promote diversity at all levels of society. Thanks to all of you. United we stand!
(Period analyzed: from June 4 – 11)
Les députés #JamaisSansElles : @CoDubost @g_vuilletet @lauredlr @yvesjego @skerbarh @denis_Masseglia @lauriannerossi @M_Orphelin ont adopté une règle de conduite simple, mais redoutablement efficace, en faveur de la mixité : pas de panels sans femmes. https://t.co/YQ6SAJSFxK pic.twitter.com/MtNvd1yFHg

— JamaisSansElles (@JamaisSansElles) June 4, 2018
5️⃣ Launching of the first #JamaisSansElles Pledge
2,500 tweets et retweets
Reach: 3.6 million
1,200 unique twitter authors
As soon as the Gentlemen's Appeal was launched, in just a few hours the hashtag #JamaisSansElles had climbed to Trending Topics on Twitter. A review of the first week of activity clearly shows the network's adherence to the initiative.
(Period analyzed: week of January 23 – 30, 2016)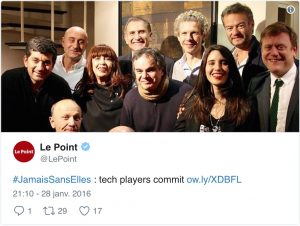 6️⃣ #LigueDuLOL – creation of a #JamaisSansElles lawyers' collective
1,700 tweets et retweets
Reach: 8.9 million
3,315 engagements
952 unique twitter authors
When the cyber-bullying tactics of the Ligue du LOL and other malicious gangs were revealed, the association created a lawyer's collective to accompany the victims pro bono. (Period analyzed: from February 10 – 17, 2019)
#JamaisSansElles a créé un collectif d'avocats afin d'aider en probono les victimes de cyberharcèlement de meute pratiqué par la #LigueDuLOL et d'autres bandes malveillantes. Plus de vingt avocats ont répondu positivement : https://t.co/qB2MzangRY cc @tfsalomon @rubin pic.twitter.com/ZrlcDFMSFv

— JamaisSansElles (@JamaisSansElles) February 14, 2019
7️⃣ Appointment of the first Philippe government
1,660 tweets et retweets
Reach: 36.7 million
2,810 engagements
988 unique twitter authors
Immediately after the election of the President of the Republic, how to apply the #JamaisSansElles Presidential Charter, signed by candidate Macron, fueled discussions, with the possibility of appointing a female Prime Minister as mentioned during the campaign and women in key government positions and ministerial cabinets. The most important peak of this sequence took place at the time of the appointment of the first government of Edouard Philippe.
(Period analyzed: May 16 – 23, 2017)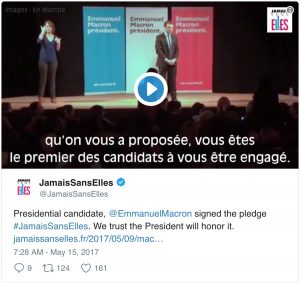 8️⃣ The Républicains primary election without women?
1,550 tweets et retweets
Reach: 22.3 million
2,400 engagements
900 unique twitter authors
In September 2016 the Républicans were planning the primary election of the right and center. Only one woman was in the race, Nathalie Kosciusko-Morizet. However, the uncertainty of her candidacy focused the attention of the community.
(Period analyzed: week of September 2 – 9, 2016)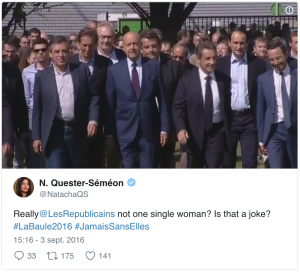 9️⃣ CNJE Women's Talk 2018 at the l'École du Louvre
1,530 tweets et retweets
Reach: 5.1 million
3,174 engagements
551 unique twitter authors
The #WomensTalkJE is the annual event organized by the National Confederation of Junior Enterprises. The conference is labeled #JamaisSansElles and aims to take stock of the place of women in firms and to promote new role models. Several members of the movement spoke in 2018 at the École du Louvre
(Period analysed: February14 – 16 February 2018)
#JamaisSansElles en force au #WomensTalkJE Salle pleine avec….aussi des hommes Bravo aux organisateurs trices @NatachaQS @tfsalomon @parizot @sachaqs pic.twitter.com/ox2g1A63iF

— Guy Mamou-Mani (@Guy_mm) February 15, 2018
« La manière de penser qui a généré un problème ne pourra jamais le résoudre » @Natachaqs cite Albert Einstein pour présenter et parler de l'action de #JamaisSansElles lors du #WomensTalkJE 2018 organisé par la @cnje et la @JuniorEdl pic.twitter.com/xfkleXYpKj

— JamaisSansElles (@JamaisSansElles) February 15, 2018
1️⃣0️⃣ Emmanuel Macron signs the #JamaisSansElles Pledge
1,498 tweets et retweets
Reach: 3.6 million
3,781 engagements
1,055 unique twitter authors

In December 2016 presidential candidate Emmanuel Macron declared "I am a feminist" and decided to sign the #JamaisSansElles Pledge. His personal commitment generated strong activity. It is one of his most shared tweets during the presidential campaign. It even appears in the program "En Marche!". (Period analysed: December 3 – 6, 2016)

#JamaisSansElles – the movement for gender equality and a hashtag with 200,000 mentions on Twitter
What is most striking at first, in the light of the hashtag's statistics*, is not only the extent of the response the movement has received and the great responsiveness of the community it has united, but also the consistency and sustainability of its impact (see history of hashtag).
The story of the #JamaisSansElles movement, its impact on and penetration of social networks can be read in a way on the graph below, which represents the activity of the hashtag over time since its creation three years ago (from January 2016 until February 2019).

During this time, the hashtag was associated with more than 200,000 tweets and retweets and was posted by nearly 50,000 contributors. In all, this generated more than 350,000 engagements on Twitter (retweets, favorites, comments) and an average monthly reach of 35.5 million accounts in 2018*.
Consistency and Highlights 
The main reason for this consistency is that the movement has developed in an organic way on social networks — no marketing plan — and with the support and direct involvement of influencers and leaders who are active in the economic, associative and political fabric of the nation.Therefore, although the hashtag has benefited greatly from the influence of its founders and its initial support (including members of the Gentlemen's Club with their 600,000 followers, the Club Girl Power 3.0 (referent community) and the Women's Council of the Association #JamaisSansElles (totaling 1.2 million followers), it quickly became an autonomous marker of the fight for diversity and gender equality; and the natural vehicle of speeches given in favor of the recognition of the role, legitimacy and presence of women, alongside men, in all spheres of activity, decision-making and representation.
A qualified and dynamic community
As a result, a qualified community that feeds and passes on relevant information and messages in this particular domain has been established. It is also fed qualitatively and continuously by the @JamaisSansElles Twitter team, whose daily monitoring activity ensures that the hashtag enjoys a constantly renewed vitality.
Beyond the major events of the association and political sequences that have had a direct impact on the activity of #JamaisSansElles, the community involved has continued to maintain a very high level of commitment, demonstrating both its attention to the various official interventions of #JamaisSansElles and its capacity to mobilise.

* All data comes from the Talkwalker reference measurement tool. The number of mentions indicates the number of times a tweet or retweet with the hashtag has been counted. The reach indicates the number of accounts that have been reached, that is, potentially exposed to tweets that include the hashtag. This is the set of followers of the sender accounts' tweets at time t.